Sådan ser du: 'Alexander' af Oliver Stone
Velkommen tilbage til min filmguide, hvor vi går direkte videre fra 'Troy' til endnu en sandalfilm fra 2004. Måske var der udsalg i Acme Ancient Set Designs det år? Et tilbud, hvor man fik lov at trække et manuskript i en automat ved køb af 20 alabastersøjler og et divangruppe i mørkt træ?
Det ville forklare meget om Oliver Stones kolossalt kedelige tour de force med Alexander den Store. Her har vi 'Imperiet rundt på hesteryg', krydret med overdrevne stunts og overspillede følelsesudladninger hvor en hvæsende Angelina Jolie angriber alt omkring sig med en attitude som en vred knæler med silikonelæber.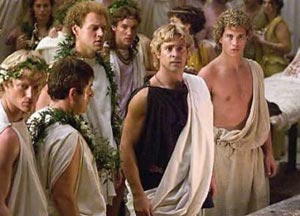 Colin Farrel som Alexander ser underlig ud med afbleget hår, og virker besynderligt afgrænset fra resten af filmen i mange scener. Det virker som om at Stone har taget sin hovedpointen - at Alexander i sidste ende kæmpede alene - lidt for bogstaveligt når det kommer til hans hovedrolles vilkår.
Og handlingen? Tja, nogle mener, at 'Lord of The Rings' er trættende, fordi det er én lang gåtur mod mere krig. De skulle bare se 'Alexander'.
Jeg er klar over, at verdenshistorien generelt lider hårdt under mangel på plot. Men at det forklarer stadig ikke at en stor instruktør som Stone taber tøjlerne så meget som han gør her, og ender med en meget lang, ufokuseret tomgang af en film. 'Alexander' er langtrukken, ufokuseret og udmattende.

Det gør det nærmest til en method-oplevelse af se den: Hvis man holder ud til den bitre ende føler man selv, at man har siddet på ryggen af en hest i 12 år som kavellerist nr. 238 fra højre, sjette kolonne, Alexanderkompagni 5, og ventet på at The Great Guy giver en lov til at lukek, slukke og gå hjem.


Men, ingen film med sjovt hår og krigselefanter i er så skidt, at den ikke er god for noget. Der er en måde at få 'Alexander' til at give andet end sadelsår:

Sådan Gør Du: Tag din remotekontrol og sæt filmen på 'lydløs'. Lav derefter selv replikker til - som om det var en Monthy Phyton-film.




Det fungerer selvfølgelig bedst, hvis du ser filmen sammen med mindst én anden person. Så kan I holde dialogen kørende henover scenerne, og I vil være overraskede over, hvor let det virker.

I skal naturligvis lave overdrevne britiske accenter og tale med høje, skingre stemmer. Tænk Terry Jones og Michael Palin i 'Life of Brian'. Og anlægge en anarkistisk, anakronistisk tankegang generelt. Så kører det af sig selv:
"No. I shant give you my Coca Cola bottle. Shant!"
"Well, I've got you by the knickers, and if you don't hand over that Coca Cola bottle, I'm going to administer onto you a wedgie of frankly epic proportions. Now give here."


Et andet godt tip er at koncentrere sig om et par statister i baggrunden af scenen og give dem stemmer i stedet for at lægge lyd til hovedrollerne:

"Who's that one up there yelling?"

"Alexander the Great, I think."

"Alexander the who?"

"The Great. He's great, apparently."

"He doesn't look that great to me!"

"Nah... I've seen greater."
[pause]
"Now my cousin Francis. He's great, all right. Great as they come"
"I dont' even think he looks large. More of a medium, really."
"Havn't seen him for a while. But last I saw him, he was definately great."

"I think he looks like a poofter!"

"Yes indeed, Francis... there's a great guy, if I'm any judge."

Og sådan kan man blive ved, scene efter scene og komme hele Makedonien rundt med et smil på læben. Allways look at the bright side.